The Heart of Portland
A few decades older than the city of Portland, Saint Michael the Archangel Catholic Church was initially founded to serve the Italian-speaking community in Portland. Located in downtown Portland and near the Willamette River, the parish has always been easily accessible by foot, car, and trolley (and now light-rail). With urban development and the closure of St. Lawrence Parish, St. Michael's became the territorial parish for the city's University and South Waterfront Districts. It is a parish of the Archdiocese of Portland in Oregon, the second-oldest archdiocese in the United States.
Rooted in a common baptism and nourished by the Gospel and the Eucharist, this parish community is rich and diverse. People of many countries, educational backgrounds, ages, and economic backgrounds come from all over the Portland metro area to worship at this centrally located parish.
By the grace of God, and each member's service, this parish serves the poor at our door with food and welcome. With eagerness, this parish welcomes students from Portland State University through its Newman Center. With care for the visitor and stranger, this parish welcomes visitors from around the world. With gratitude for nearly 120 years of Catholic life, this parish looks forward to the next century of serving our community, with St. Michael's buildings and ministries at the heart of secular and religious life in downtown Portland.
Our Parish Crest
The arms of our parish reflect its patron, its congregation, and its location. The red field alludes to our patron, St. Michael the Archangel. The cross patonce is associated with St. Michael in heraldry, and the flaming sword is the one held by the saint. The silver (white) crescent and three stars of six points are taken from the coat of arms of the Archdiocese of Portland in Oregon. The stars were taken from the coat of arms of Pope Gregory XVI, who established the archdiocese. The crescent is a symbol of Our Lady of the Immaculate Conception, the titular patron of Portland's cathedral and of the United States of America.

The tinctures (colors) of the field are gold, red, green, and white. Gold is often associated with divinity, and church is where people encounter God. Red, white, and green are the Italian national colors. This honors the heritage of this Italian national parish.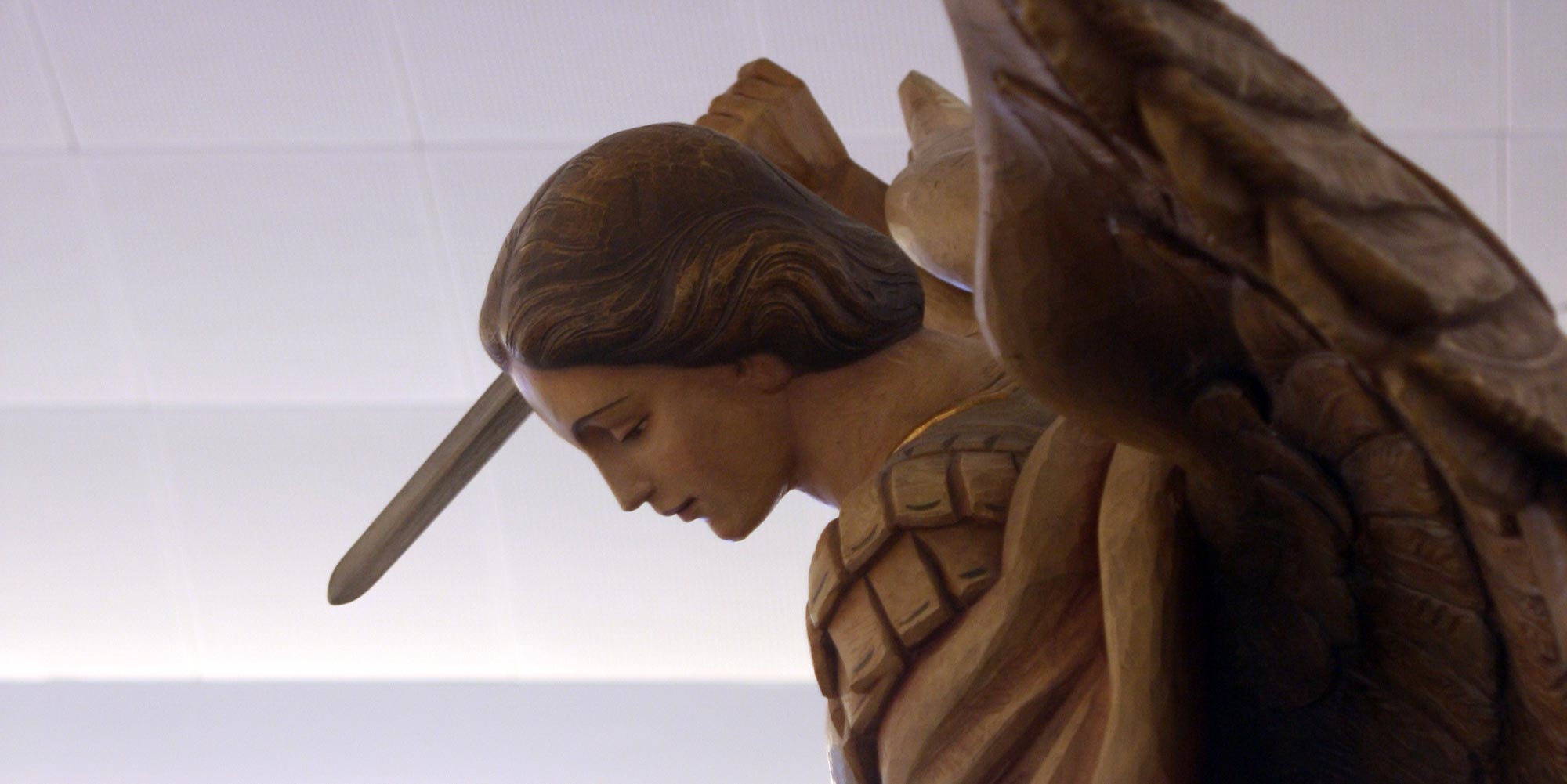 Father Ignacio Llorente
Pastor
Fr. Ignacio Llorente was born in Seville, Spain, and raised in Buenos Aires, Argentina. He was ordained to the priesthood on June 13, 2009. He is a member of the Saint John Society, a society of apostolic life dedicated to the new evangelization. Fr. Ignacio holds a Bachelor's Degree in Economics from UCEMA, a Bachelor's Degree in Philosophy from UNSTA, and a Bachelor's Degree in Theology from Mount Angel Seminary. He is currently pursuing a Licentiate in Sacred Theology at Sacred Heart Seminary in Detroit, MI. He led campus ministry at the Newman Center at Oregon State University from 2009 to 2012, was pastor at St. Patrick Parish in Portland, OR, from 2012 to 2014, and was pastor at St. Mary Parish in Corvallis, OR, from 2014 to 2018. He became the pastor of St. Michael the Archangel Church in October 2018.
Deacon Chuck Amsberry
Pastoral Associate
Deacon Chuck is the oldest of 8 children--all sons. They are cradle Catholics, blessed by the faith and love of their parents. Dcn. Chuck attended Mount Angel Seminary, where he received a B.A. in Philosophy and M. Divinity in Theology. He decided to not pursue ordination to the priesthood, but continued to work in Church ministry (save for 9 years when he worked as a professional librarian--he also has an MLS degree). Dcn. Chuck married his wife, Carol, on October 1, 1988, and they have three children: Francis, Anthony, and Clare. He was ordained a permanent deacon on October 16, 2004. He is blessed in his marriage, his family life, and his opportunity to serve the Lord in His Catholic Church.
Father Juan Pablo Segura
Director of Campus Ministry
Fr. Juan Pablo Segura was born and raised in Córdoba, Argentina. He joined the Saint John Society in 2005. He received a Bachelor's degree in Public Accounting from the Catholic University of Cordoba in Argentina in 2007. He received a Master of Arts in Systematic Theology and a Master of Divinity from Mount Angel Seminary in Mount Angel, Oregon, in 2017. Fr. Juan Pablo was ordained a priest for the Saint John Society on June 24, 2017, in Cura Brochero, Argentina. Since his ordination, he has been serving as parochial vicar at St. Michael Church and director of the Newman Center at Portland State University.
Sr. Teresa Harrell SdM
Campus Minister
A native of Portland, Oregon, Sr. Teresa entered the Catholic Church in 2002 in Corvallis, after having a powerful encounter with Jesus in the Eucharist. She entered the Society of Mary in January 2008 in Córdoba, Argentina, made her first consecration on December 8, 2010, and professed final vows on December 9, 2017. She is currently the director of the Society of Mary in the US. Together with the other sisters in the society, she has worked to evangelize high school students, adults, the marginalized, and especially college students in Corvallis, in Argentina, and now in Portland, where she has been a campus minister at the PDX Newman Center since 2013. She has a B.S. in English from Corban University, earned an M.A. in English from Oregon State University, studied philosophy through the Centro de Estudios John Henry Newman in Argentina, and is currently working toward an M.A. in theology through Franciscan University.
Jerri Schultz
Office Manager
Jerri came to Saint Michael's in December 2000, where she fell in love with the gardens and Michael the church cat. A transplant from northern Indiana, she appreciates the evergreen and ever-blooming nature of Portland. "I miss the thunderstorms, fireflies, and Eastern blue jays of Indiana," she says. "Yet, the mild year-round weather here suits me better. And I'd never see an eagle on my walk to the grocery store back home!"
Christina Self
Music Coordinator
Christina Self was born in California, but grew up in Portland. She graduated from Grant High School and earned a B.A. in Education and English from Lewis and Clark College. She has been playing the piano since the age of six. She learned to play the organ while at Lewis and Clark after discovering the amazing Casavant organ in the chapel. Christina began working as a church musician in 1985, and has worked at many different churches and denominations over the years. She became a member of Saint Michael's in 1993 and began working as a parish organist/pianist in 1996. Christina has been an elementary school teacher in Portland Public Schools since 1987. She currently teaches second grade at Glencoe Elementary in southeast Portland. Other interests include reading, gardening, and traveling. She enjoys spending time with her husband, Tom, and their crazy dog, Stanley.
Location
Church Location and Mailing Address
424 Southwest Mill Street
Portland, Oregon 97201
Phone: 503.228.8629
Fax: 503.827.7689

Office Hours:
Monday-Friday:
8:30AM - 12:00PM
1:00PM - 4:30PM
Summer Hours:
9:00AM - 12:00PM
1:00PM - 3:00PM
Contact Us
Please fill out the form below, and a staff member will contact you.
Are you new to our parish?
Welcome to Saint Michael the Archangel Catholic Church in Portland, Oregon. We hope that you will be an active member. Please fill out this registration form, and the next time you're at Mass, introduce yourself to the priest so he can sign it to complete the process.
Capital Campaign
Thank you for visiting our campaign page detailing our efforts to repair our 112-year-old parish church, located in the University District of downtown Portland, Oregon. Click here for the latest donor update. Please feel welcome to contact us with any questions or comments you may have concerning the campaign.